Part 1: Retail Clinics Role in Consumer Centric Healthcare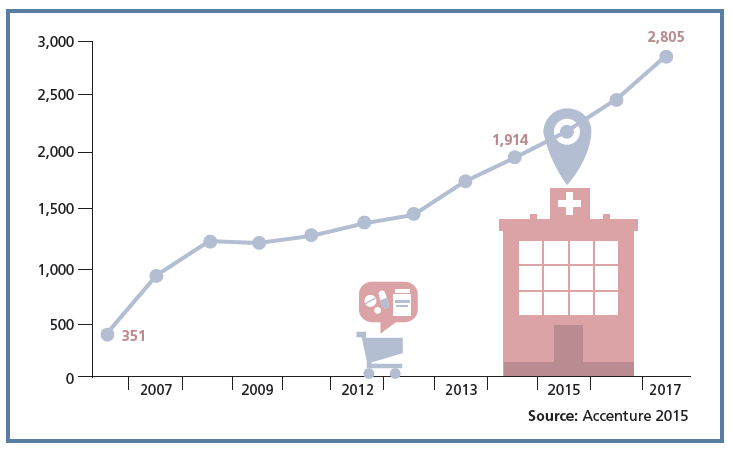 Background
The first retail health clinic opened in Minnesota in 2001 after a father, and future MinuteClinic co-founder became frustrated with the long wait at an urgent care center for the treatment of his son's strep throat.
Since then, retail clinics have emerged in drug stores, grocery chains and big box stores across the country.
The benefits that retailers see from housing retail clinics is the sale of prescription drugs and OTC products that result from the visit. For example, a patient with sinusitis might be prescribed an antibiotic and a bottle of Robitussin – after seeing the nurse practitioner at the clinic, it is highly likely that they are going to get these from the store before they leave.
The more foot traffic that retailers like Walgreens or CVS can get into the store, and the longer those customers stay, the more likely they are to purchase the higher margin "front of house" items.
According to a Harris Poll
71% of adults that visited a retail clinic are encouraged to purchase a product
Over half of retail health clinic users (53%) buy a product during or after their visit
Because of this kind of consumer behavior, retailers can afford to operate at a loss. The administrator of Salud Pediatrics in Algonquin Illinois has commented that "Retail clinics can afford to let their healthcare operation be a loss leader [because] the clinics get people into the store to fill their prescriptions and buy things." Doctors and hospitals do not have this same luxury.
Why Are Hospitals So Interested?
Retail clinics are becoming increasingly popular with consumers, which is driving the growth of these businesses across the country. Consumers love their convenience and cost and hospitals are trying to determine how these alternative care sites fit into their consumer centric healthcare approach.
Hospitals are urgently rushing into this market as they see threats from local competitors, who are forming alliances with retail clinics because of the downstream referrals that can arise. In one journal article, Memorial Hospital & Health System in South Bend, Indiana reported that, on average, about 15 percent of patients were referred from their retail clinics for follow-on care, elsewhere in their system.
When you consider the estimate published by The Convenient Care Association estimates that 40 percent of patients who show up at retail clinics do not have a primary care doctor, there is a clear opportunity for capturing new patients for a hospital system.
Around the country, over 50 hospital systems have partnered with CVS (the largest provider of retail clinics), including some nationally recognized names like The Cleveland Clinic, The Henry Ford Health System, and Robert Wood Johnson. These hospitals primarily provide supervision to the nurse practitioners working in the stores.
Walgreens has shifted their approach in the last 12 months and has been selling or leasing retail clinic space to hospital systems. Some notable names that have moved forward with this model include Advocate Healthcare (bought 56 clinics) and Piedmont Healthcare (27 clinics), and there seems to be a new announcement every few weeks about hospital systems partnering with Walgreens in this way.
Which Model is Best: Own the Space or Partner?
The main difference we have seen between the two models are that the nurse practitioners at places like CVS Minute Clinic are much less tied to their hospital partner for referrals while in the Walgreens model, having the hospital own or lease space, provides a much clearer path to minimizing referral leakage.
However, there is a lot to be said for the CVS model and their ability to run the clinic without the hospital needing any upfront investment or ongoing expenses to maintain an operation that would likely be breakeven at best. It is often difficult for hospitals to maintain operations that are running at low or negative profit margins when downstream revenue opportunities are difficult to measure.
Stay tuned as we run a series of articles on this topic for retail clinics and urgent care, and how hospitals are approaching these alternative care sites, over the coming weeks.